Why get a
Home Inspection?
Buy and sell your home with peace of mind.

Peace of Mind
Get a complete understanding of the condition of a potential new home, before you choose to purchase it or not.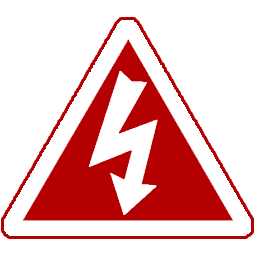 The only licensed master electrician home inspector in the area. You will have a true expert opinion.
Read More →

The only EPA 608 certified home inspector in the area. Ensure you are breathing easy in your new home.
Read More →

Negotiating Power
With a detailed and expert report, you will have the maximum leverage when negotiating with the seller to fix issues or adjust the price.

Future Costs
Knowing the state of a home will give you a good idea on what to plan and expect in the future. Don't get blindsided by surprise repairs.
About 
REM SERVICES
REM Services is the premier home inspection company for Vigo County and the surrounding areas in Indiana.
The Most
Detailed

and 

Thorough

Home Inspection Service

When you work with REM Services, you get the ONLY licensed master electrician and EPA 608 certified home inspector in the area.

The Mission
REM Services is here to work with home buyers and sellers to give an honest and accurate peace of mind for all parties. As a customer, you will have complete understanding of the home property to make the best choices possible going forward.
At R.E.M. Services, LLC, we will strive to increase the number of services we provide while working hard to continually improve our service and inspection quality, without losing focus of our main service to Jesus Christ.

Certifications
Home Inspection Certifications include: Licensed Master Electrician, EPA 608 Certified, ICA Mold Certified, ICA Lead Paint Certified, ICA Wood Destroying Organisms Certified,  InterNACHI Roof Inspection Certified, and ICA Asbestos Certified.
Consultation
The first step is a consultation meeting. You will provide information about the home or property you are interested in. REM Services will discuss your plans and intentions, to maximize the effectiveness of the Inspection and Report process.
Inspection
This is where the magic happens. Rest assured knowing your inspection will be the most thorough and detailed oriented inspection available in the area.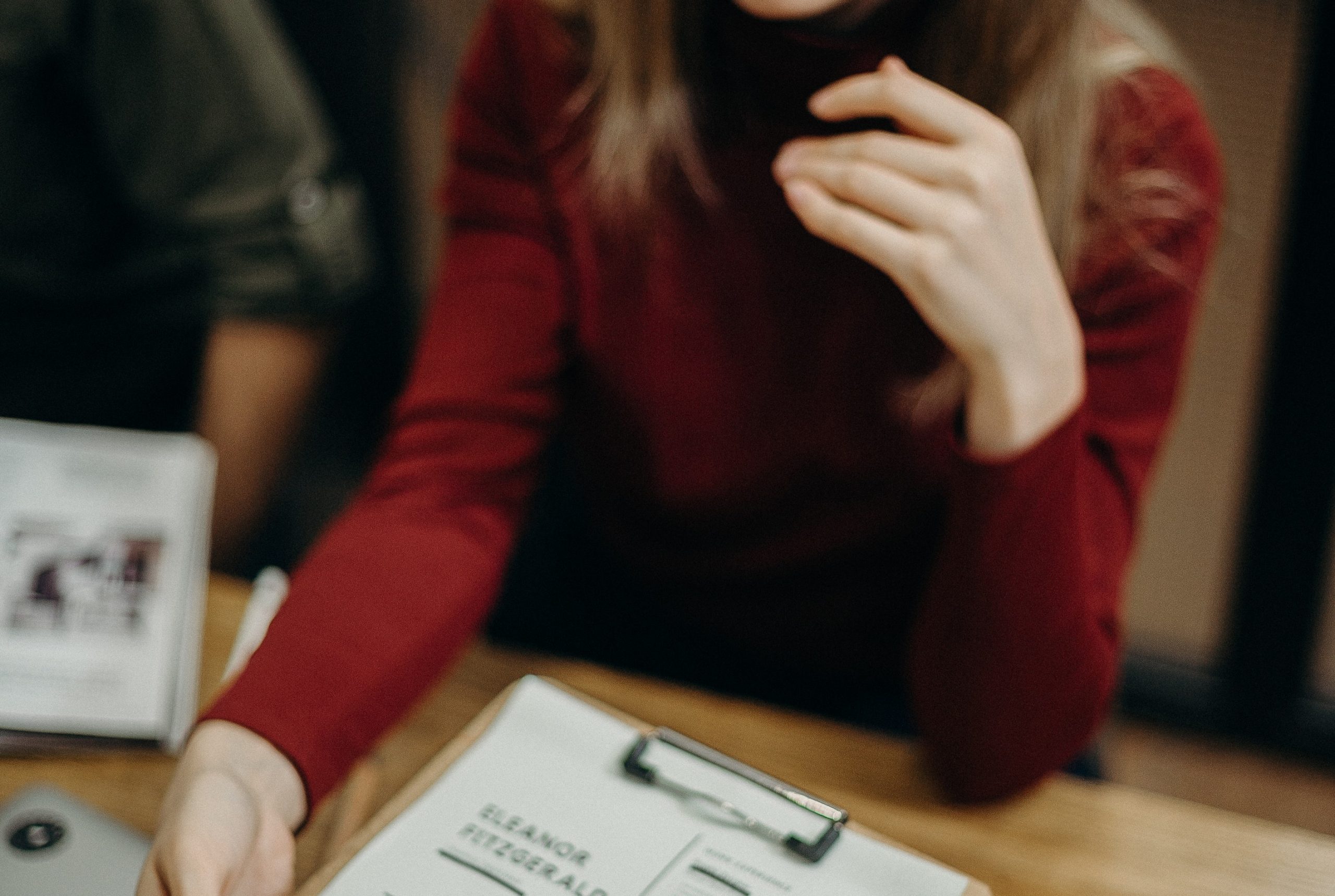 Report
Once the inspection is complete, you will receive a detailed and easy to read custom report. Emphasis will be placed on key points to match your needs and goals from the consultation process.
Q & A
If you have any questions or concerns after your report is delivered, you can engage in Q&A with REM Services. You will receive straight forward and unbiased answers to clear up any questions you may have.
Recent
Work
Take a look at some of the key areas of caution REM Services discovered for recent clients below.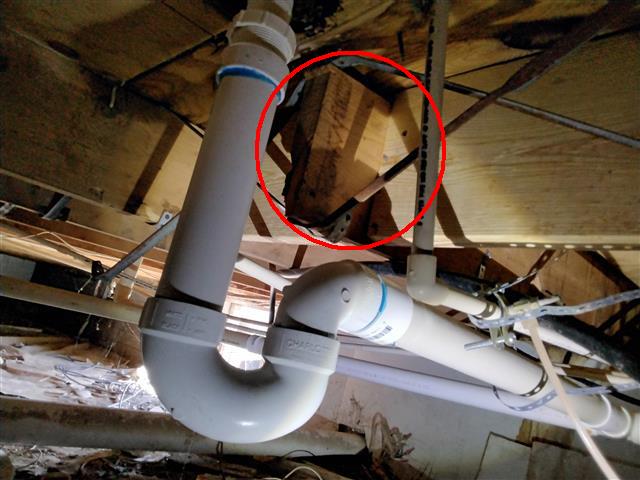 Floor Joist cut for tub drain
This home featured a cut floor joist to make room for a tub drain installation. This can weaken the structural strength of the home and cause the floor to sag, or even worse, long term damage to the home.
Spotting this before purchasing a home is a great asset to require a proper fix be asked for in the contract, before you buy your dream house.
Flue too close to combustables
This flue becomes very hot, and when installed too close to any type of combustible, it can be an extreme fire hazard. You can see the discoloration of the wood in this image from getting too hot.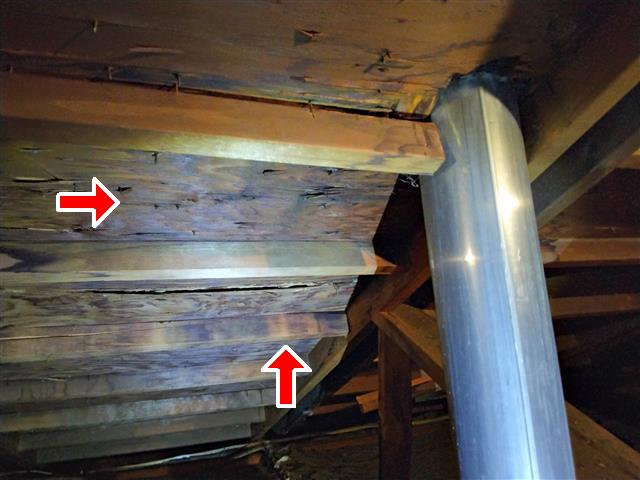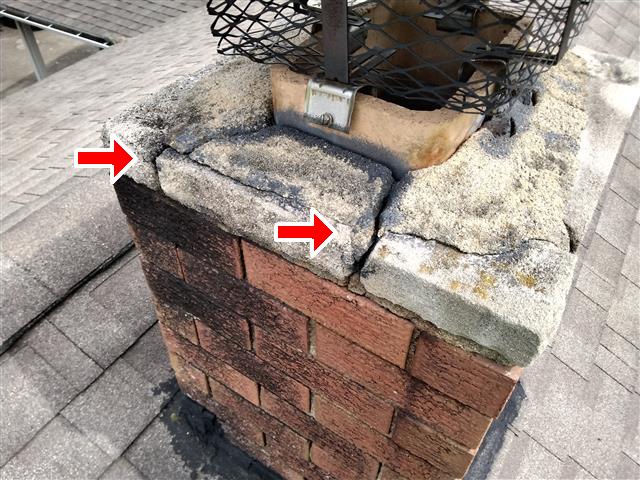 Cracked chimney cap
As pictured here, a cracked chimney cap left unattended can deteriorate and cause more damage to your home over time. During the freezing and thawing season this damage can worsen as it expands and widens the cracks. This is a great example of damage that would normally go unseen or unnoticed until there had been a significant amount of extra damage done to the home.
The Best Inspections for Your Home
Experience and Certifications Matter! Here are just a few of the accolades REM Services has accrued.








TESTIMONIALS
Happy
Clients 
 Impressed? Now see for yourself!
In 2016, we used several local HVAC companies to try and get back in working order in our newly renovated home, but they were always expensive and quirky about trying to satisfy our needs. Then I became reacquainted with Bob and his business REM, having worked together some twenty years prior. He immediately got us back in shape, working within our budget and needs to get us going. I have and will continue to recommend him to my friends and family!
Jeff Hasler, Brazil
We have had great experiences with REM Services several times in the past few years. Bob has worked diligently, always working us into his busy schedule. We have had repairs and eventually a full unit replacement and have been happy with all services. Every time we have needed help, Bob has worked quickly and provides great information and tips. Bob is friendly, professional, accommodating, and fair and we will always call REM Services with all of our needs!
Heather Martin, Terre Haute
Bob has been my air and furnace man for years. He is reliable and honest. Five star service all the way.
Steve Rusin, Terre Haute
Highly recommend. Work is done on time and correctly.The cost is more than fair.
Jerry Palmer, Terre Haute